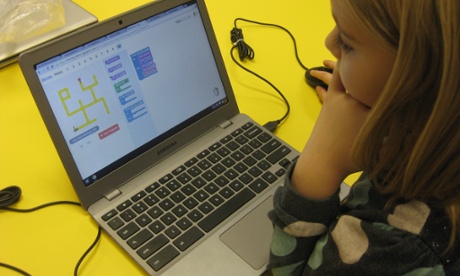 Since the industrial revolution, Britain has been a cradle of invention. From railways connecting our cities to the world wide web connecting our globe, Britain can take pride in its part in the development of many of the technologies that have transformed our lives.
Even at the dawn of the technological revolution – from radio and television to the computer – Britain was playing a key role. But in recent years, the most significant technological innovations have happened elsewhere. Today, as more and more of us are learning what technology can do and how to use it, fewer people are learning how to build it.
The reality is that for all Britain's proud heritage, we're not as good as we were at nurturing the skills and talent that are needed to be at the leading edge of innovation. That needs to change.
Computer science as a skill is declining, and Britain is falling behind. The UK currently ranks 32nd globally in terms of the percentage of population that are computer engineers, lagging behind Slovenia and Romania. In fact, there has been a near 60% decline in the number of people taking computer science A-Level since 1998.
Technology breakthroughs can't happen without the engineers to build them. And I'm not just talking about tech companies like Google. As an engineering company we will always need talented engineers, but technology is no longer the sole preserve of start-ups and software companies. Companies from architecture to manufacturing are using and relying on technology to run their businesses. This, in turn, creates jobs and value to the economy: digital employers hire 15% more people on average than those who are not digital. By 2015, there will be an estimated 900,000 unfilled ICT positions in the EU.
Britain today does not lack for smart people with the potential to lead the next wave of invention. At Google in London, I'm lucky enough to sit among some of the brightest technological minds in the world.
Like many of my colleagues, my own interest in computers started from a young age, long before I was thinking about career options. Since I was four, I've been fascinated with how things work – pulling things apart and then putting them back together again. I've introduced my son and daughter to coding too and they love playing with Scratch, a free programming language for creating your own games.
I want to see more children across the country excited about computer science, but to make this happen we need to start early. If we can get children interested and give them the help they need to turn these skills into a career, we'll end up with more computer scientists. Google work with many partners from Raspberry Pi, to Young Rewired State, to Code Club and Teach First who get young people exposed to, and involved with, programming.
This week we're also celebrating Hour of Code which aims to persuade as many students and their parents as possible to try computer coding for at least 60 minutes during that week. We know you can't learn to code in an hour. Like most skills, it's not that easy. But you can spark interest and excitement in an hour and there are lots of organisations ready to support children to take the next step after that.
Thanks to initiatives like these, the UK today is beginning to close the gap in tech skills. Computer science is coming on to the primary school curriculum for the first time in September, making the UK one of only two G20 countries to make this investment. This is a fantastic development but it's also a huge challenge. More than 200,000 teachers will be affected by the curriculum changes. That gives us about six months to get them ready. We're working with Code Club Pro to launch the first teacher-training scheme of its kind, but much more needs to be done to equip teachers with the skills they need to inspire the next generation of programmers and developers.
We want to see more ground-breaking technology invented right here in Britain. To do that, we need to continue to invest in computer science education and help students, teachers and parents understand its importance in our lives.
We need to make sure innovation is part of the UK's future and not just our history.
• Mike Warriner is UK engineering director of Google